Eddie Griffin Live – Living Legend Tour / Fairfield Halls, Croydon, 9th Nov 2014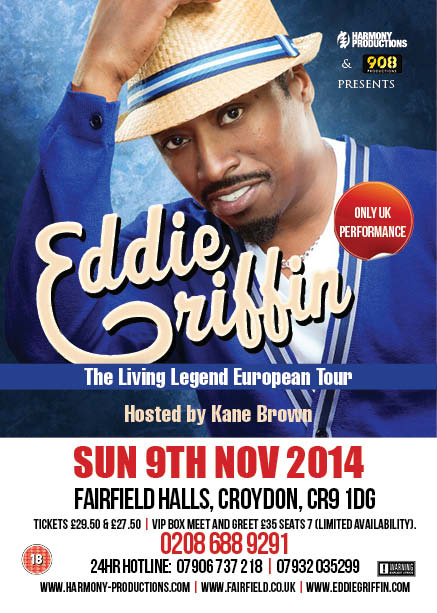 Eddie most recently starred alongside Eddie Murphy in the hit feature Norbit "2007" and starred, wrote and Executive Produced his next comedy special Freedom Of Speech "2007". Later that year he contributed to and performed on T-Pain's worldwide successful album Circus "2008" and starred in Disney's Beethoven's Big Break "2008".
Eddie's most recent comedy special You Can Tell 'Em I Said It premiered on Comedy Central on February 19, 2011.  In June 2012, Eddie took a dramatic turn in David E. Talbert's play A Fool And His Money in which he received rave reviews as the hero.  Most recently Eddie was the voice of Richard Pryor in the animated series Black Dynamite on Adult Swim and starred in the R-rated comedy feature Mucho Dinero  released in 2013.
Comedy Central honored Eddie as one of the Top 100 Greatest Stand-Up Comedians of all time. He has conquered not only the stage, but the silver screen as well, appearing in over 50 films and numerous television shows. In addition to his Comedic talent, Griffin is also a gifted Actor, Dancer, Choreographer and Singer. Eddie Griffin is a highly accomplished individual who has contributed significantly to the arts and the entertainment industry and is a star and gifted entertainer in the entertainment world.
Dont miss Eddie Griffin Live in his only UK perfomance on his European Tour with Harmony Productions.
Click here to buy tickets
TICKET HOTLINE:
07906 737 218
07932 035 299